---
Bio Energy Distant Healing Treatment Available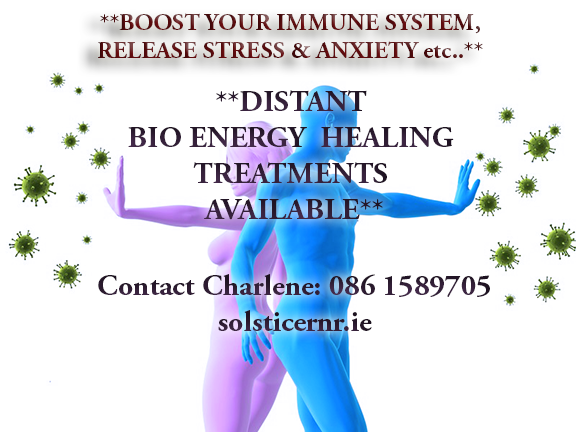 You can receive a Distant Bio Energy Treatment in the comfort of your own home. Distant healing is a method used to send healing to a client when they may be unable to travel or are to far away to come for a treatment or may be chronically ill.
Treatments will help Release Stress, Anxiety, Boost your Immune System and much more..
Distant healing is based on the understanding that everything in the universe is connected via a vibrating energy field. The energy field of the distant healing therapist "connects" via this universal energy field to the person that requires healing. The therapist can sense and 'tune in' to the energy field of the person receiving the healing and provide healing as effectively if the person is in the same room or across the world. It has been around for centuries and is used by thousands of people worldwide.
*Contact me for further info..*

**Pick & Mix**
Choose 2 Treatments:
1 Hour
30 Min Treatments: €75 or *€85 for Massage Treatments*
(Treatment includes Shoulder/Neck/& Scalp Massage)
---
Refer a Friend OFFER at SOLSTICE R&R
***Get your Card Today when you Book a Treatment***.
**€5 OFF for both You and Your Friend that you Refer**