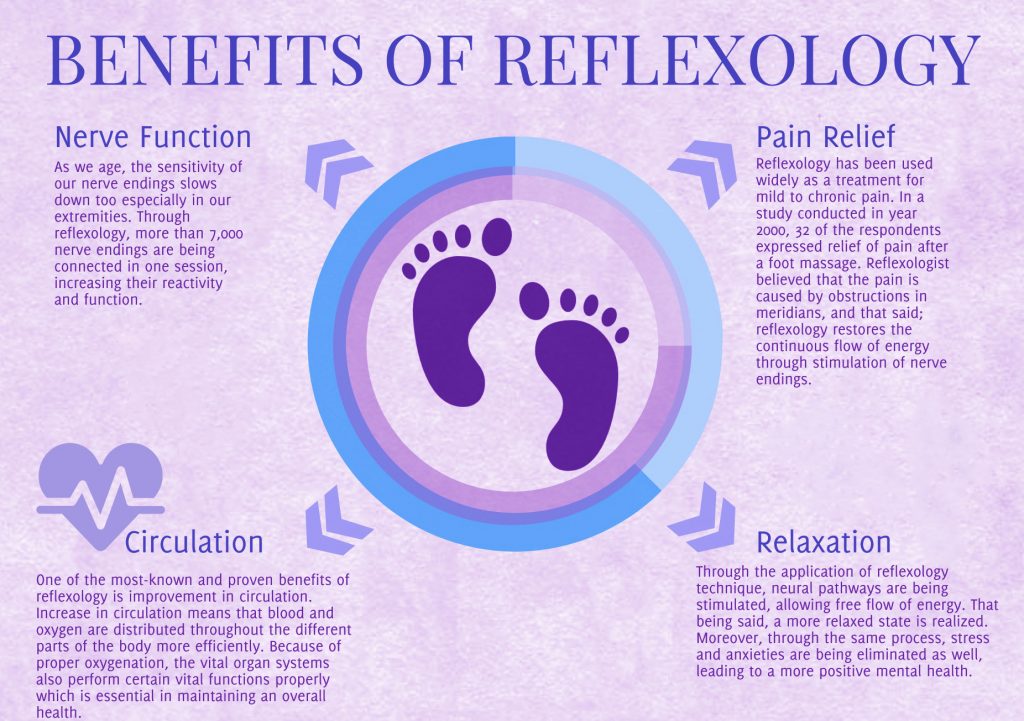 10 Amazing Benefits of Reflexology!
I always had an interest in complementary therapies and since I was young had a deep core belief that our bodies have an amazing unique and natural way to be able to heal itself.
A small as thing as a cut to the skin, the body begins to process new cell formation immediately to heal the wound. Every second that we're alive, the cells in our bodies are endlessly working to keep us to a natural state of balance or equilibrium. We all have incredible body healing strength inside of us.
As a practicing Reflexologist, today I want to talk about Reflexology. A Complementary Therapy that can help your body and mind overall…& help conditions and aliments also.
Reflexology is a lot more than just a foot rub! Our feet are a map of our body and the different areas of your feet correspond to different parts of your body. It really is amazing how are feet can tell us so much about what is going on inside our bodies. Using precise hand and finger techniques and applying pressure to areas on the feet it reduces stress on the body's organs, glands, and other body parts and systems. All of our Body System's and Nerves (we have over 7,000 nerves ending in our feet!) are stimulated by using this relaxing pressure point treatment on the feet.
It improves circulation, induces relaxation and removes blockages and toxins to enable overall balance of the body. This encourages the person's own natural healing to be activated to heal the body & maintain wellbeing.

My 10 Amazing Health Benefits of Reflexology!
1. Snoring, Sinusitis and Respiratory Disorders
Reflexology works on the respiratory systems in the body and encourages deeper, more relaxed and slower breathing, which prevents forceful intake of breath through the throat and also clears the sinuses. It can really improve the respiratory systems in the body and improve breathing overall. It helps in releasing the mucus and also removal of toxins and opens up the nasal passage.
Many people can relate to their partner snoring as can I. I can really relate to as my partner used to be a chronic snorer. Sleeping next to someone who is a roaring whale at night is next to impossible and can often disrupt their own sleep. Having restless and sleepless nights was happening constantly and he was not sleeping properly either and waking up with a scratchy throat and a croaky voice and feeling tired. He had tried various other methods which included snoring strips and a snoring ring but they did not work. I became a qualified Reflexologist so wanted to try this complementary treatment to see if it would help him. I performed Reflexology sessions once a week for 4 weeks and afterwards his snoring stopped. With continuing sessions on a regular basis he does not snore anymore which has been amazing.
2. Relieves Stress, Anxiety and Depression
It has an amazing ability to induce a deep state of relaxation restoring harmony to both our sympathetic (fight-or-flight response) and para-sympathetic nervous systems (relaxes the body "rest and digest" function). Encourages the release of the natural feel-good hormones, endorphin's, which have been well-documented by science to reduce the body's stress response.
3. Relieves Aches and Pains
More endorphin's are produced to block pain signals to the brain. Endorphins are painkillers that are stronger than morphine. So can help treat different types of pains and aches, such as headaches, migraines, neck pain, backaches, sciatica, arthritis, foot pain and much more..
4. Better Sleep, Insomnia
Helps the body to relax by releasing chemicals and brain signals to slow down the muscles and organs. This can lower the production of stress hormones like adrenaline which will let the body unwind and relax the nerves. These in turn will encourage restful sleep.
5. Improves Blood Circulation
Improves blood flow to vital organs. Blood delivers oxygen and nutrients to these organs, nourishing the body tissues. Will also stimulate the lymphatic system and help prevent varicose veins.
6. Boosts Energy Levels and Detoxifies the Body
By stimulating all the body systems it detoxes your body and brings it back into balance which enables your natural healing abilities to heal physically, emotionally and mentally. Detoxing can help to boost your energy levels and motivation by increasing circulatory and lymphatic movement and also deliver more oxygen and nutrients to your body on a cellular level. This, in turn, leads to greater energy. Increasing the circulatory and lymphatic systems in the body it speeds up the removal of unwanted substances in the body from the appropriate organs. It also boosts the immune system, aids the digestive system and calms the nervous system.
7. Eases PMS and Menopause Symptoms
Many women suffer from symptoms like feelings of irritability, cramps, insomnia, bloating, fatigue, headaches, acne flare ups and mood swings during premenstrual syndrome (PMS). Symptoms of menopause like hot flushes and depression can be effectively helped with regular Reflexology treatments. Helps the body return to balance naturally, so a reflexology treatment can relieve stress and pain, help to alleviate hormone-related symptoms, improve sleep, mental outlook and energy.
8. Lowers Blood Pressure
High blood pressure, also called hypertension, can be controlled with regular treatments. Reflexology helps in stimulating the overall blood circulation in your body. When your heart and other organs related are targeted your blood pressure can be reduced significantly.
9. Pregnancy
Reflexology can be used safely during pregnancy and labour. It is best to wait until you are 12 weeks pregnant or more before you avail of a treatment. Boosts the immune system for both mother and baby. Prepares the body for labour by balancing the body's systems, especially the endocrine system which is responsible for the secretion of many important hormones. Reduces morning sickness. Can relieve heartburn, backache and sciatica, indigestion, constipation and hemorrhoids. Helps regulate blood pressure and also improves sleep and more energy.

10. Makes Feet Healthier
Many of us find ourselves on our feet all day so there is a good chance that you put a lot of weight and stress on your feet every day. Also some of us due to sedentary lifestyles we do not use the muscles of our feet properly. It helps stimulate the muscles around your feet, lessens stiffness and even reduces pain in the ankles or the heels. It can even be beneficial to relieve the discomfort of burning feet sensation and Restless Leg Syndrome which can cause difficulty sleeping due to the unpleasant sensations like throbbing, pulling and the urge to move your legs. It improves blood circulation, relaxes the nerves which will help you sleep better at night.
I hope you have found this interesting and informative….Thanks Charlene